Nos valeurs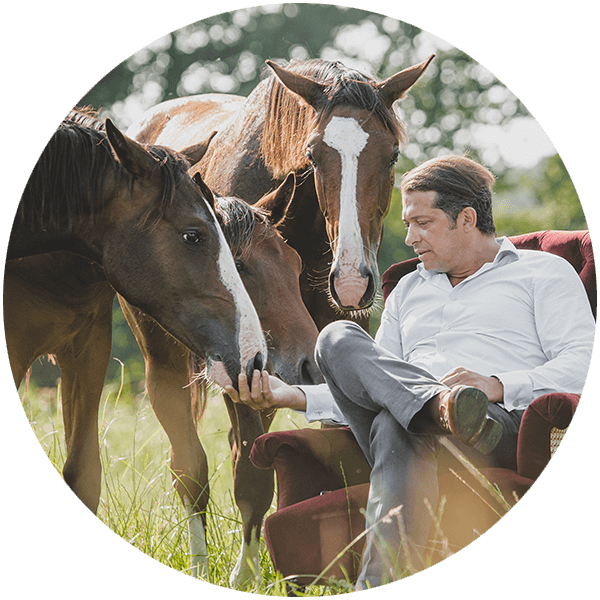 « Creating life while striving to reach a genetic ideal…that is the aim of a prestigious breeding centre, with emotion-filled times such as birth, growth, progress, and first successes.
At Haras de Malleret, we achieve these results through our ongoing commitment to quality and excellence.
Every foal represents a story, a responsibility. It's important that we take our time with every one of them. Like us, they are all different, grow at different rates, understand and analyse at their own pace.
Horses have so much to offer in so many different areas »
Gérald MARTINEZ
Directeur Général
Our values
Vision
Since 1830, the same family has owned the property of Malleret. In 2012, the Haras de Malleret began a major renovation project taking Malleret up to the top of advanced technologies by respecting his history, his environment and his architecture.
Our breeding center, today accomplished, perpetuates his family tradition, although established in 1850 by Baron Clossmann, his stables shelter our dressage horses today, nearby the former hunting stables which were transformed into one of the most technical equine Balnéothérapies in Europe.
---
Heritage
The inheritors of the family continue their passion for breeding horses. Buying a horse from Malleret, means entering into the unique family property where each generation passes on its values of vision, heritage, respect, passion, excellence and rarity.
---
Respect
Acquiring a horse is a large responsibility. It is essential to us to offer the best possible life to our horses.
We should respect this wonderful animal that gave us so much during the last centuries and continue to surprise and to touch us emotionally in so many ways. They offer us all that we can expect from them, even in very uncomfortable situations. In these situations they show us
their incredible generosity, even for disrespectful and bad individuals. Knowing that our horses will be in good hands is a real relief for us, the well-being of our horses is and will always be one of our top priorities.
---
Passion
A horse represents emotion, complicity, nobility, strength, elegance, sensibility… They deserve that we pay attention to them, as they help us to find our personal balance if we are willing to listen to them. They have the ability to thrill us with joy and emotions.
---
Excellence
A horse that is born at Malleret represents the genetic values of Malleret during his long-lasting education. His DNA comes from a severe selection that experienced specialist are willing to recognize to be the best genes worldwide for dressage horses. We are and will always be taking care of every foal or grown-up horse during its whole evolution. We achieve this goal by approaching and working on a weekly basis from the day of their birth until they leave the Haras de Malleret.
Acquiring a horse from Malleret, means joining our values and our sense of excellence, in order to enjoy a well-educated horse.
Our horses are the outcome of a unique knowledge and of a considerable amount of work, love and emotions. Furthermore, it will be up to you to continue its training and to accompany your horse during its career and lifetime.
---
Rarity
The breeding policy of Malleret is to produce up to ten foals a year, allowing us to look after each and every one of them with the highest attention in order to obtain rare and exclusive horses.